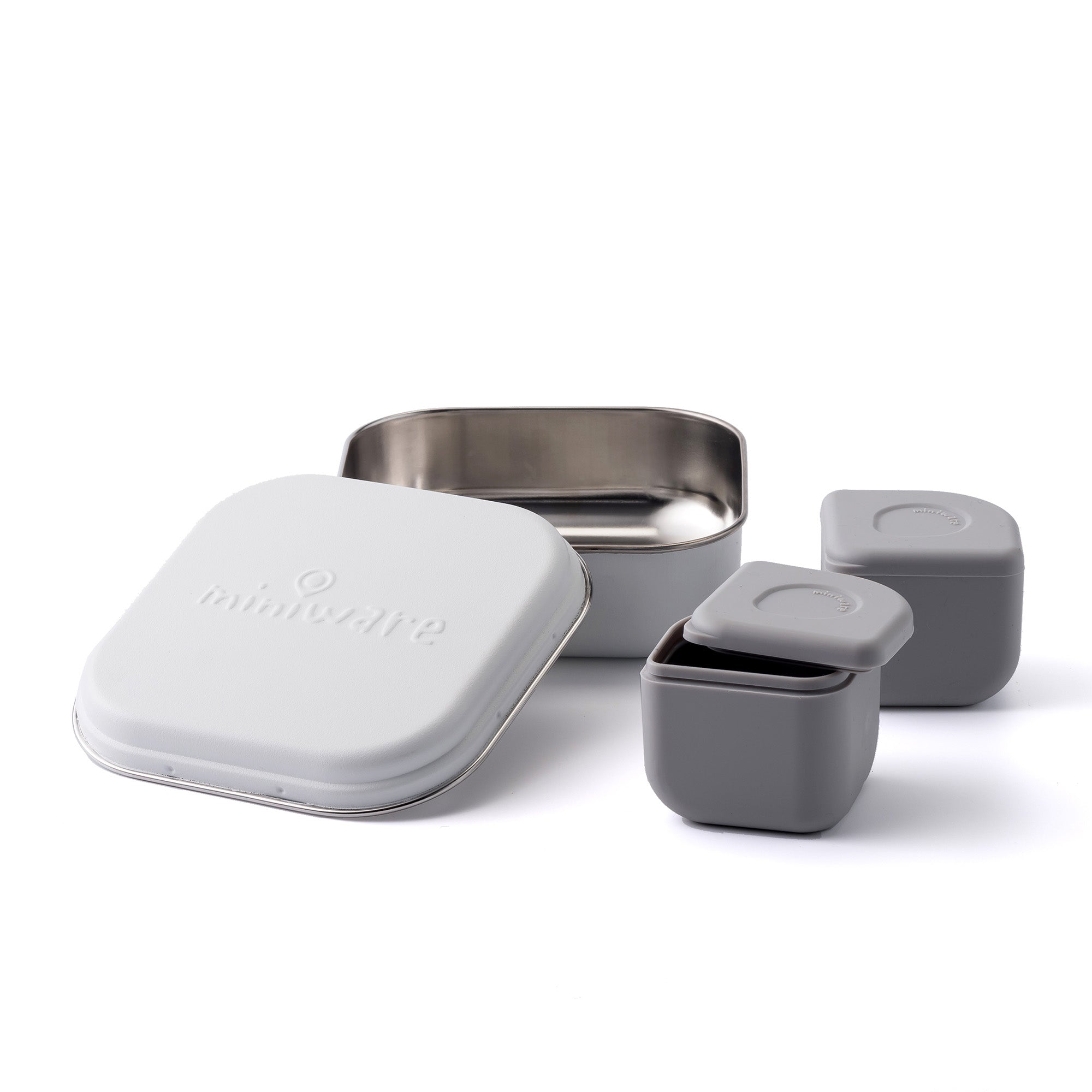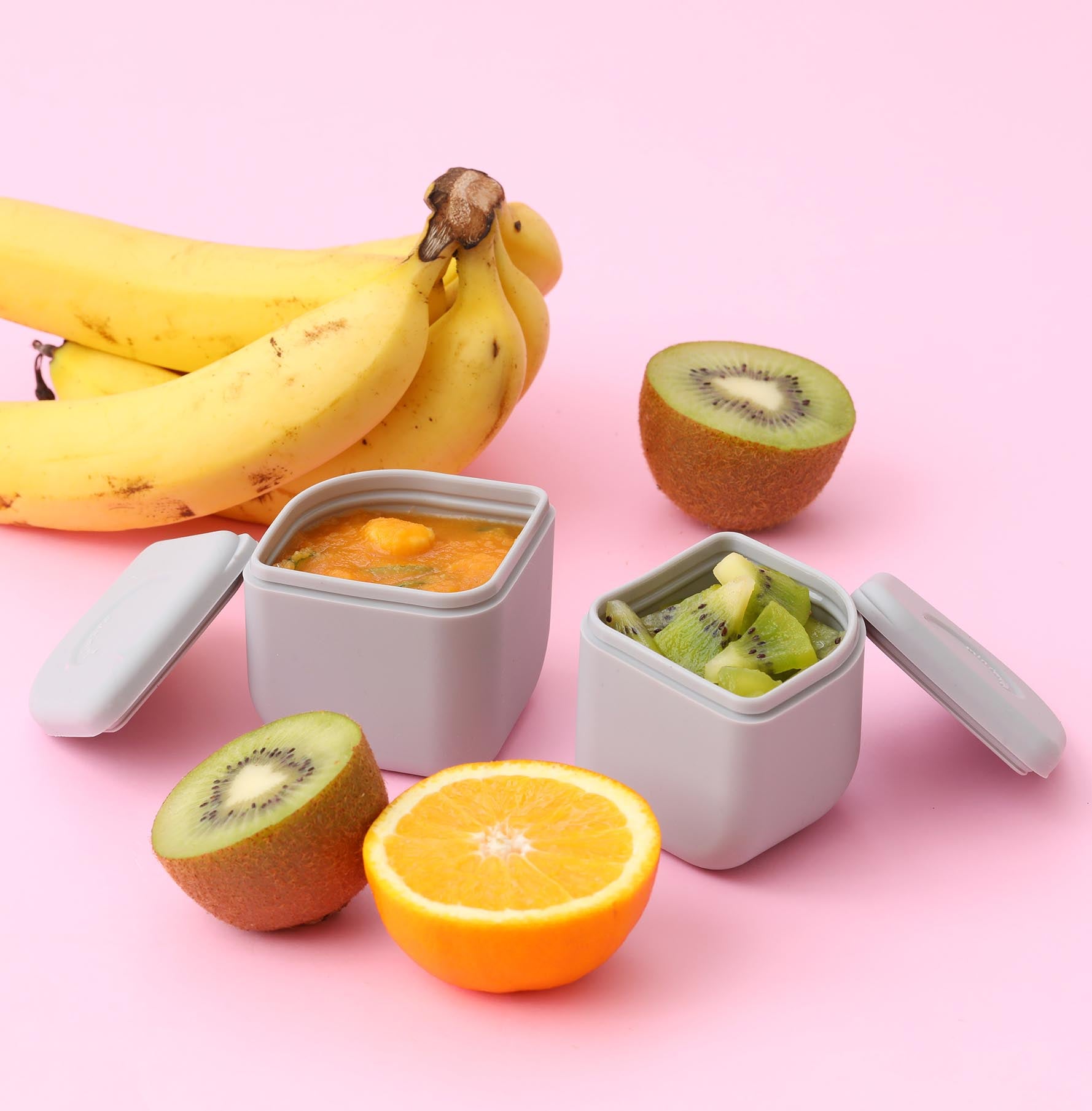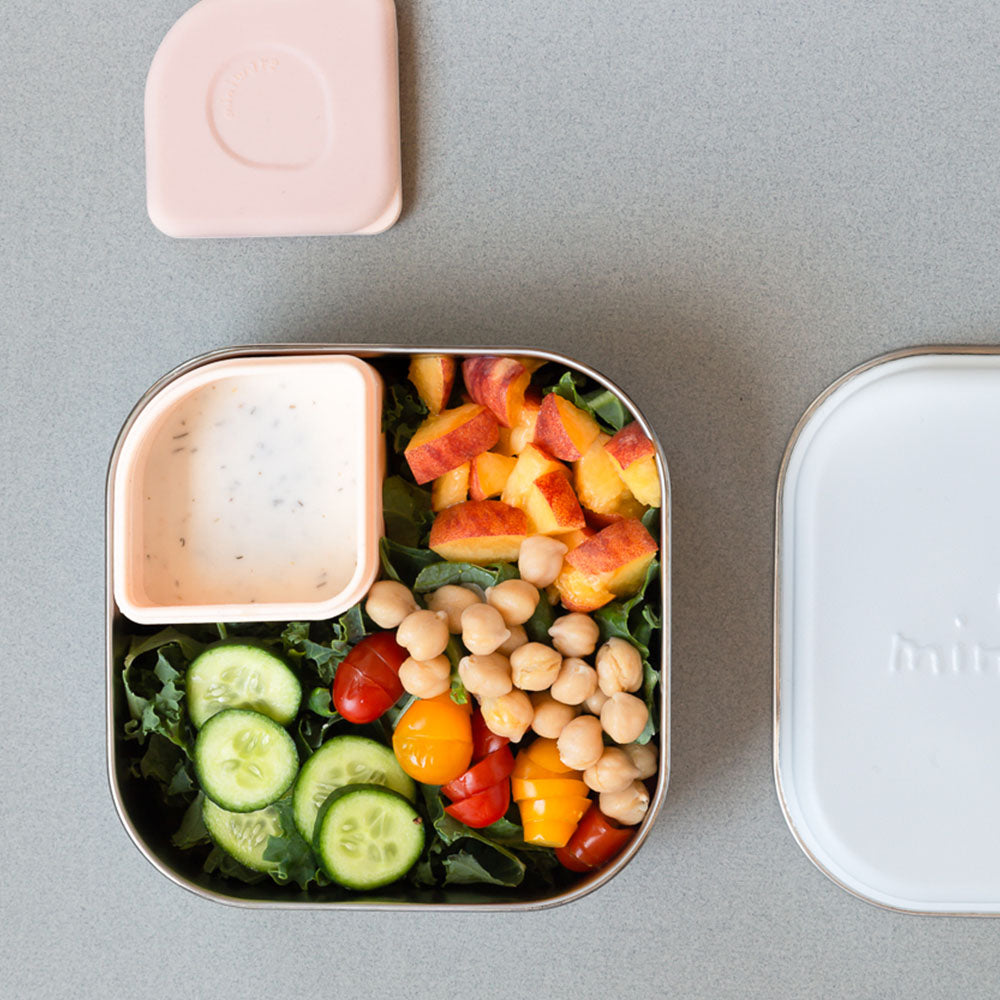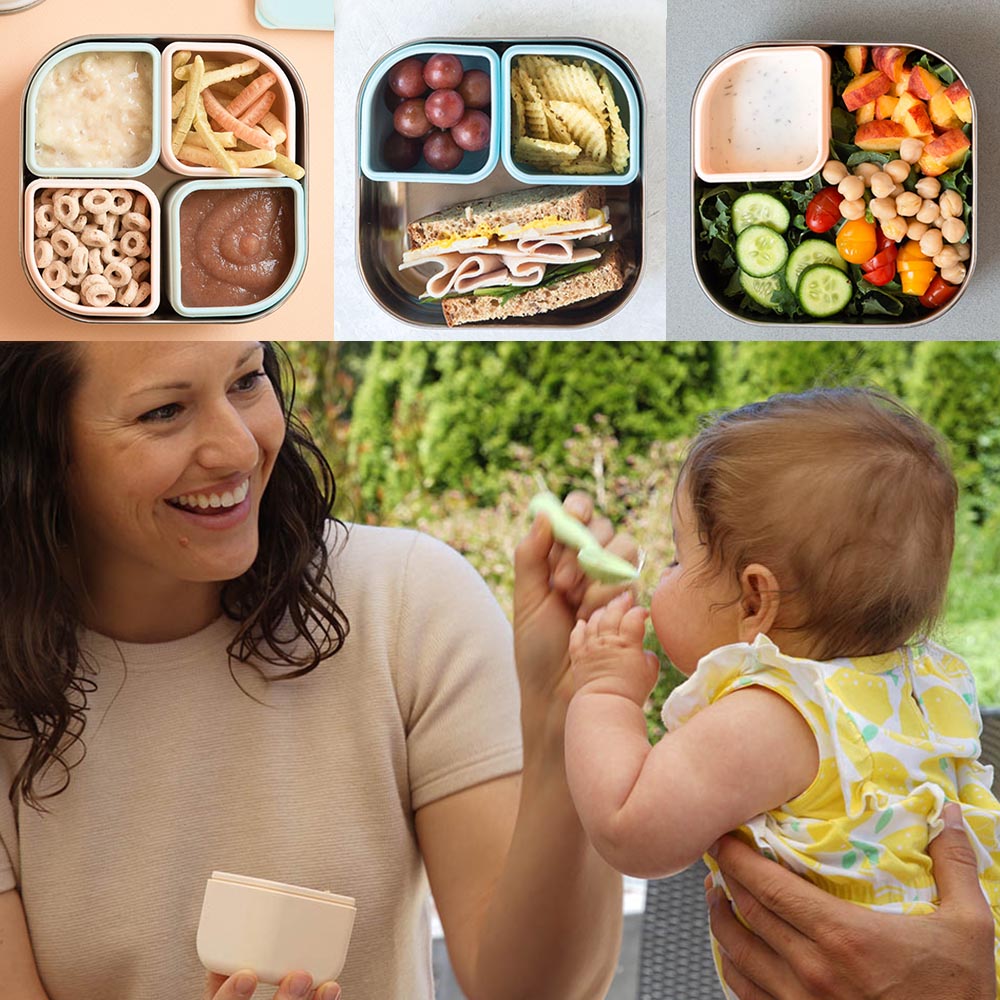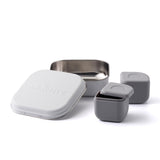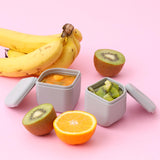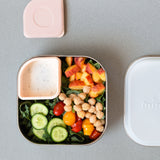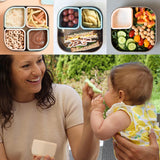 GrowBento Lunch Set Snow + Dove Grey
$31.50
Regular price
$42.00
Description

From Purees to Lunchbox - mix and match your meal for all ages!

This set with two Silipods is ideal for kiddos on the go from babies exploring purees to toddlers heading to school. The combination of the Growbento body with leak-proof silipods offers storage for a wide range of food combinations, even including liquids like hot soup and dressings. The ultra-durable materials are long-lasting and will grow with your kiddos needs, from finger snacks to school lunches.

Materials

bento / 304 stainless steel with painted coating

Silipods / 100% food grade silicone


Dimensions

bento / 5.75 x 5.75 x 2.25(H)

silipod / 2.5 x 2.5 x 2.25(H), 4oz volume
Usage

Fill Silipods with snacks, purees, sauces and more - you decide!

Ensure Silipod lids are firmly closed to maintain a leakproof seal.

Growbento holds up to four silipods, adapt and rearrange the versatile layout to fit meal needs of any age.

Steel and silicone are safe for both hot and cold meals.

Care

To best preserve the painted coating keep away from sharp or hard objects, dishwash with delicate settings or handwash.

Silipods and Growbento are dishwasher safe.

Dry thoroughly before storing.
Set Includes

1x bento body, 2x silipods
From babies tasting their first purees to school ready toddlers, the Growbento adapts to serve every phase, making it your go-to companion as your child grows.
Shaped for little hands, ensuring a comfortable grip for budding eaters.
Crafted from baby-safe, non-toxic materials for peace of mind at mealtime.




Free shipping on orders over $35
GrowBento Lunch Set Snow + Dove Grey
$31.50
Regular price
$42.00
Brand Certifications
Eco Friendly
Work Environment
Benefits
· Versatile layout for any age and food

· Leakproof Silipods with lids

· Extra durable food grade coating on bento

· Easy to stack and store

· Dishwasher safe

· Fridge + Freezer safe Silipods

Made from Plants, For Kiddos and Mother Earth
FAQ

Can I store liquids in the Silipods?

Yes! The Silipods are designed to be leakproof, making them perfect for storing liquids like soups, yoghurts or dressings without any spillage.

How should I care for the painted coating on the bento?

To preserve the painted coating, it's best to avoid sharp or hard objects. For cleaning, either use delicate settings on your dishwasher or opt for hand washing.

Are both the bento and Silipods safe for storing food?

Absolutely. The bento is made of 304 stainless steel while Silipods are crafted from 100% food-grade silicone, ensuring safe and healthy storage for all foods.
Returns

30 Days

Refunds available for unused products within 30 days; certain exclusions apply.

Replacements

Replacements offered for items with defects on arrival or hidden defects within 90 days; damage from drops/throws excluded.

Shipping Costs

Return shipping costs borne by the customer; we're not liable for lost/stolen items. Refunds processed in 10 days; terms and exceptions apply.
Why Miniware
Sustainable, Safer For Baby, Easy To Clean
Our brand is committed to sustainability, ensuring a brighter future for the next generation. Every product is designed with your baby's safety in mind while offering hassle-free cleaning.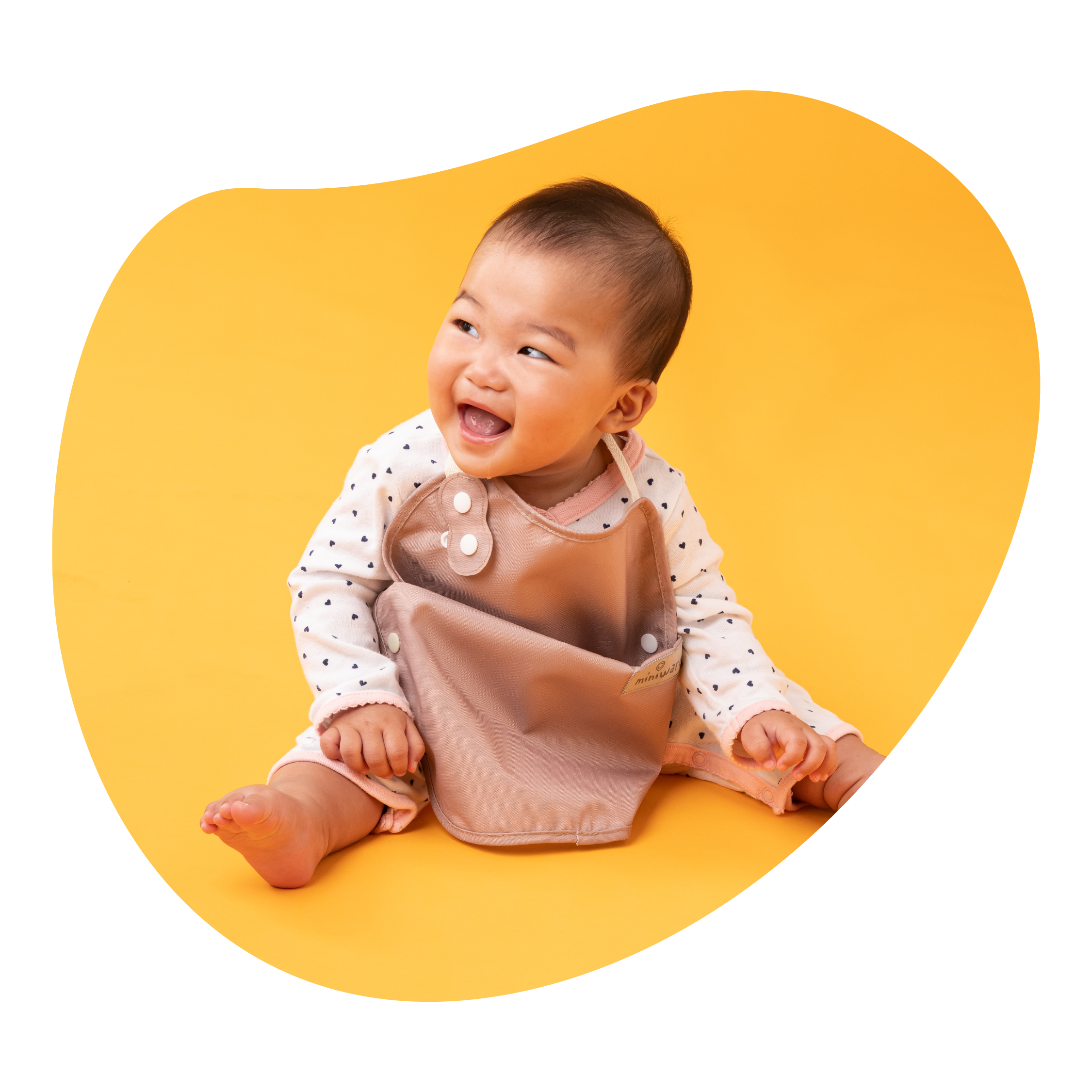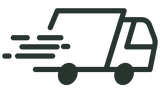 Exclusive Discounts
Redeem for up to 30% Off!
Redeemable Perks
Transform your points into exciting products or special savings.