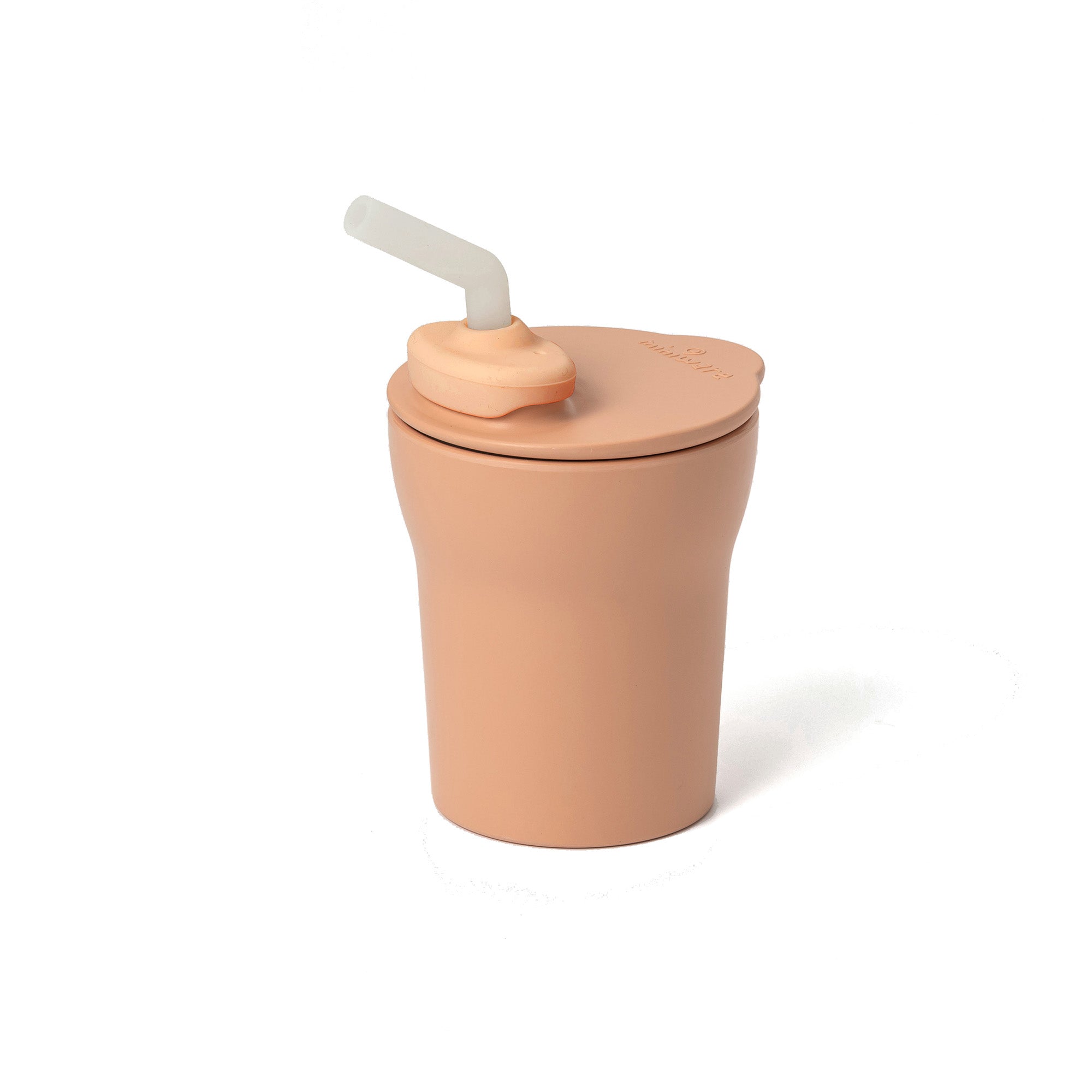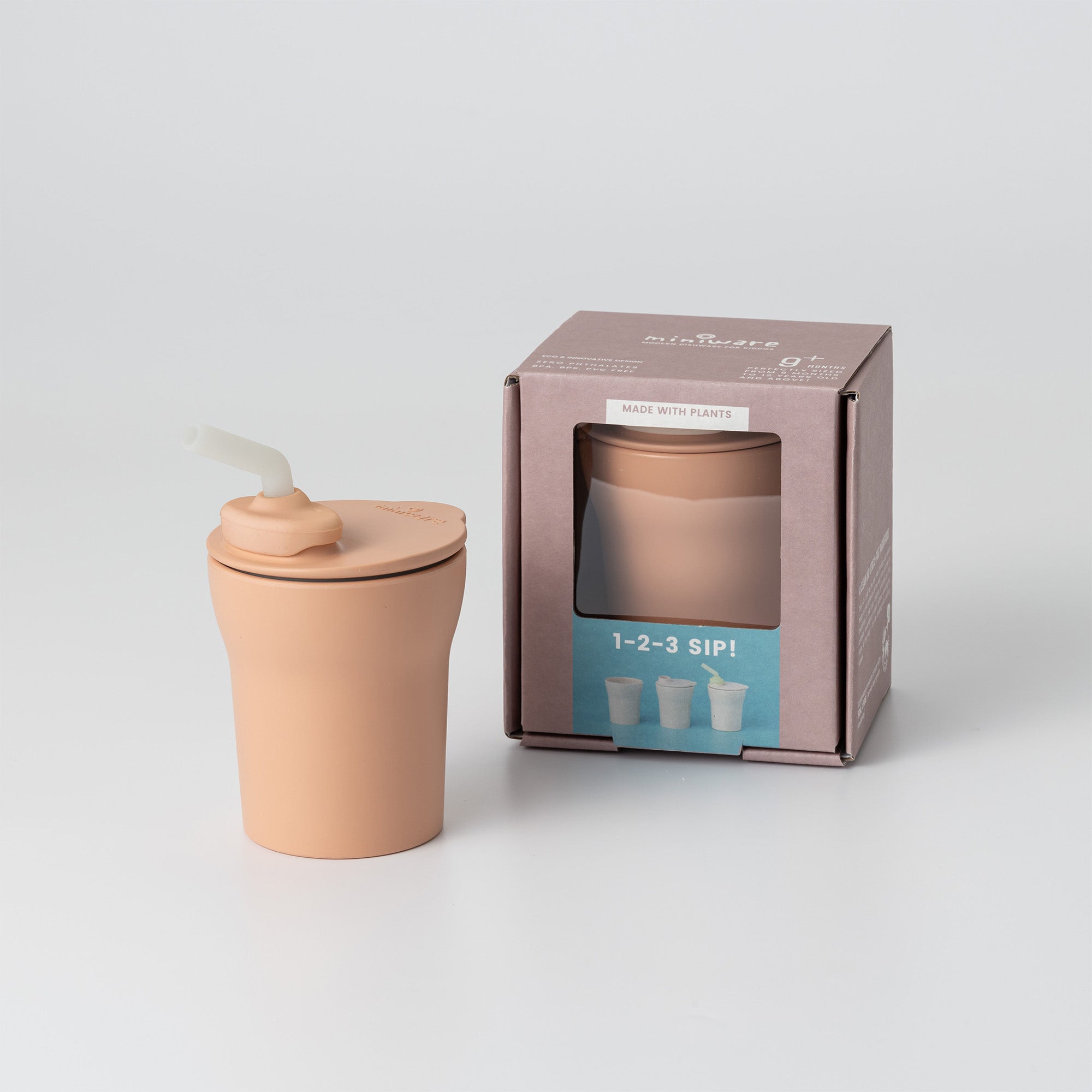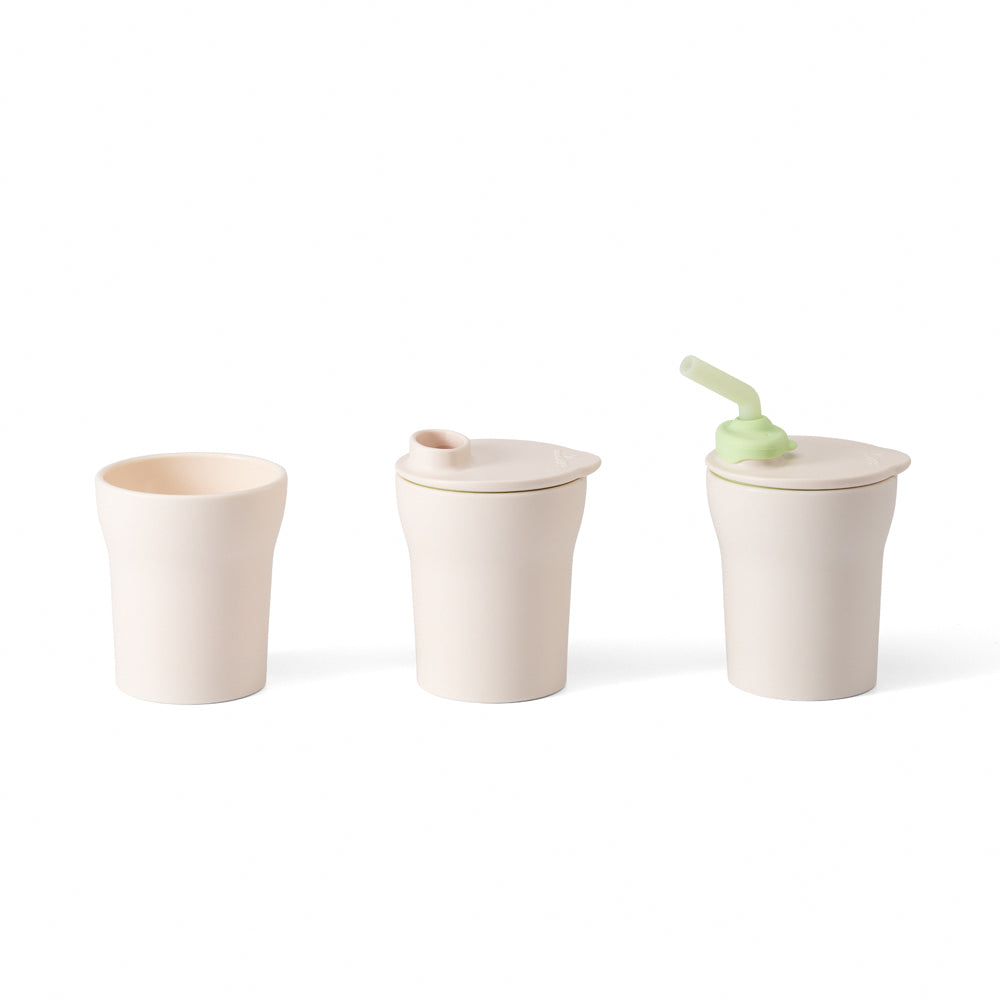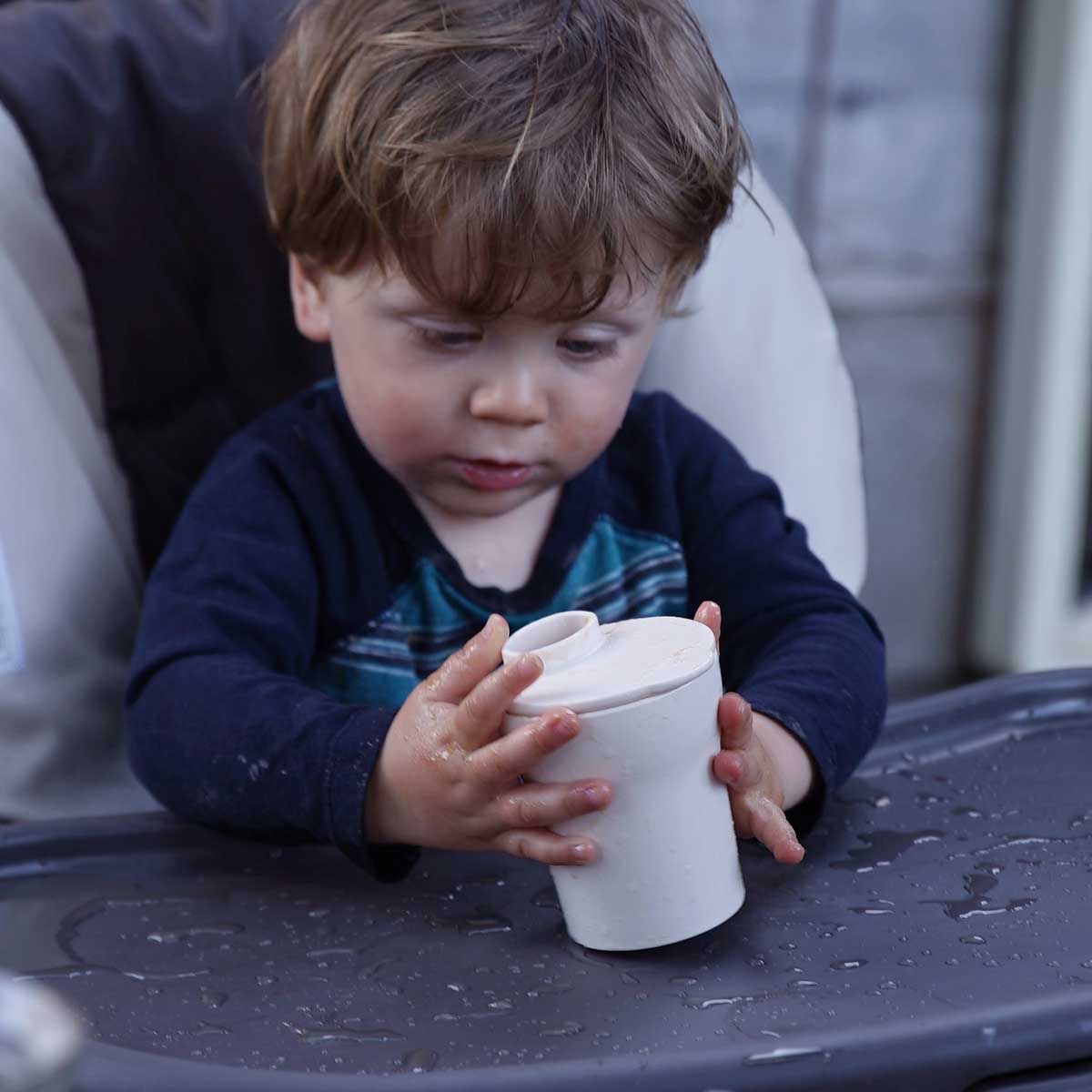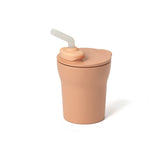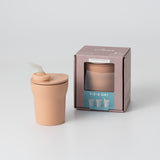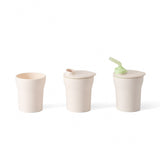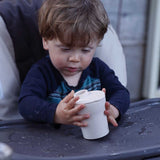 Description

The 1-2-3 Sip! is the only true training cup which helps a child advance all the way from a straw to mastering a real cup. Children practice all the complex movements in steps without opening the valve all the way – it's like drinking with training wheels.
At first a child can sip from the silicone straw, which is soft and feels good against gums and teeth, then move on to practice tilting and drinking from the Spout and finally remove the lid to master a real cup on their own.

Includes

1x mini cup, 1x spout lid, 1x silicone straw holder, 1x silicone straw

Materials

mini cup + non-drip lid / plant based biodegradable and petroleum free PLA
straw and straw holder / food grade silicone

Dimensions

mini cup + non-drip lid / diameter 3 x height 3.5
including straw height / 5.5
cup holds 6oz
Usage

Begin by attaching the soft silicone straw to the mini cup.
Encourage your child to sip from the silicone straw. The soft material is gentle on their gums and teeth.
Supervise your child during this stage to ensure they are comfortable with the straw and can safely sip from it.

Once your child is comfortable with the silicone straw, transition to the Lid + Spout.
Replace the silicone straw with the Lid + Spout, which has a spout designed for little mouths.
Teach your child to tilt and drink from the cup with the guidance of the spout. This step helps them develop the skill of drinking from a spout.

As your child becomes proficient with the Lid + Spout, they can progress to using a real cup independently.
Gradually introduce a regular cup without a lid or spout.
Guide your child in learning to drink from the real cup. Provide support as needed until they can do it on their own.

Care

All components may be used in dishwasher on top rack, or handwashed with warm soapy water.

Wash thoroughly after each use and allow the parts to dry completely before reassembling or storing. Use a soft sponge or brush to clean any crevices or hard-to-reach areas.

Please sanitize with care. Do NOT boil more than 30 sec, do NOT use silicone in UV-activated sterilizers.
This cup evolves with your child's needs, starting with a soft silicone straw, progressing to a spout lid, and finally functioning as a real cup. Think of it like "training wheels" for drinking!
Shaped for little hands, ensuring a comfortable grip for budding eaters.
Crafted from baby-safe, non-toxic materials for peace of mind at mealtime.




Free shipping on orders over $35
Brand Certifications
Eco Friendly
Work Environment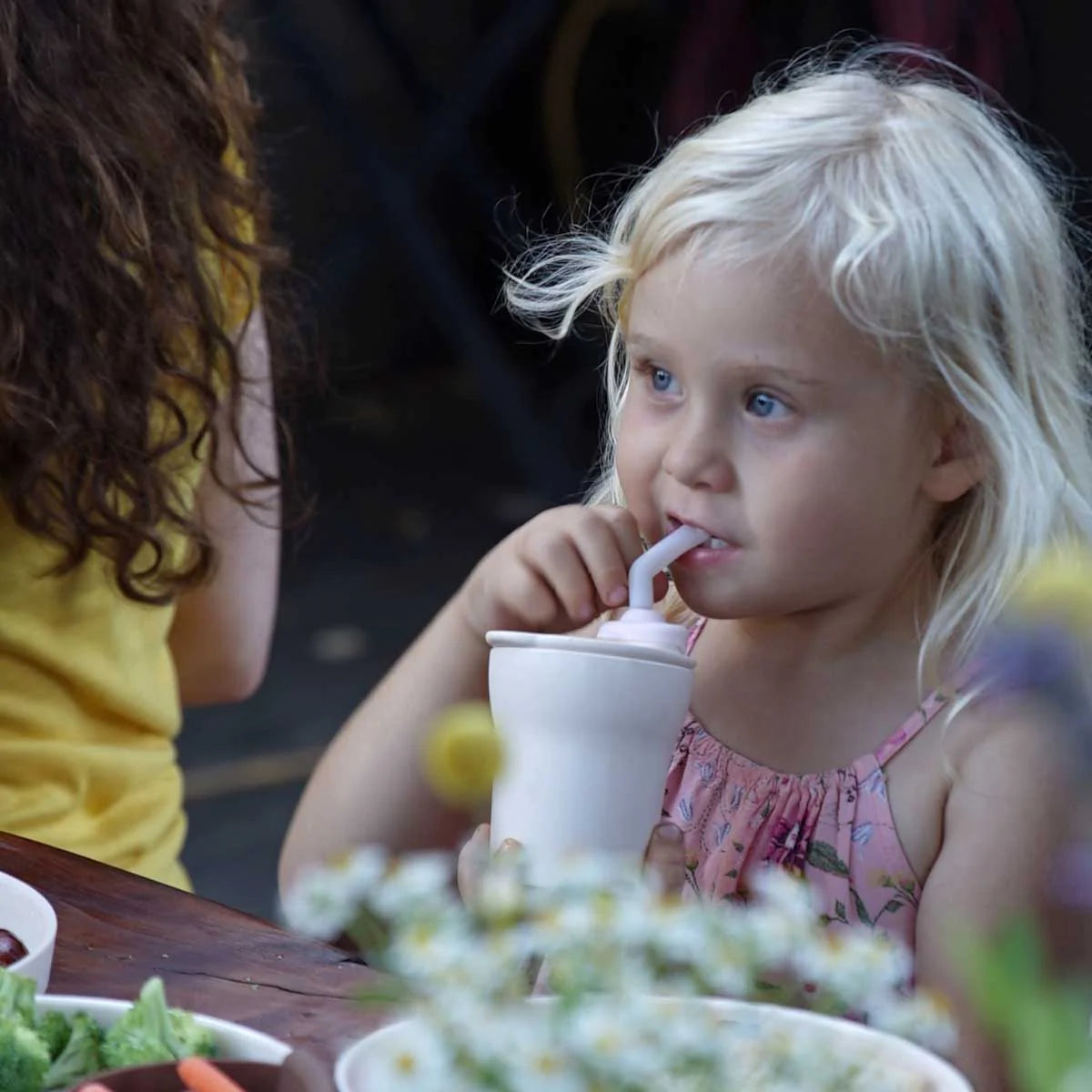 Benefits
· Develops with child from silicone straw, to non-drip spout, to a real cup

· The non-drip lid has a spout perfectly sized for little mouths

· Earth and family safe materials, biodegradable and food grade

· Dishwasher safe and easy to clean

Made from Plants, For Kiddos and Mother Earth
FAQ

Is the 1-2-3 Sip! cup spill-proof?

While the silicone straw and spout lid are designed to be non-drip and reduce spills, it's important to remember that the cup's primary purpose is training. As your child progresses to the real cup stage, spills are a natural part of the learning process.

What age range is the 1-2-3 Sip! cup suitable for?

The 1-2-3 Sip! is versatile, catering to a range of developmental stages. Whether your child is just beginning to use a straw or is transitioning to a traditional cup, this training cup is designed for toddlers and young children to adapt as they grow.

Can the 1-2-3 Sip! cup be used for hot beverages?

While the materials used are food grade and durable, it's recommended to use the 1-2-3 Sip! for cold to lukewarm beverages to ensure safety for your child.
Returns

30 Days

Refunds available for unused products within 30 days; certain exclusions apply.

Replacements

Replacements offered for items with defects on arrival or hidden defects within 90 days; damage from drops/throws excluded.

Shipping Costs

Return shipping costs borne by the customer; we're not liable for lost/stolen items. Refunds processed in 10 days; terms and exceptions apply.
Why Miniware
Sustainable, Safer For Baby, Easy To Clean
Our brand is committed to sustainability, ensuring a brighter future for the next generation. Every product is designed with your baby's safety in mind while offering hassle-free cleaning.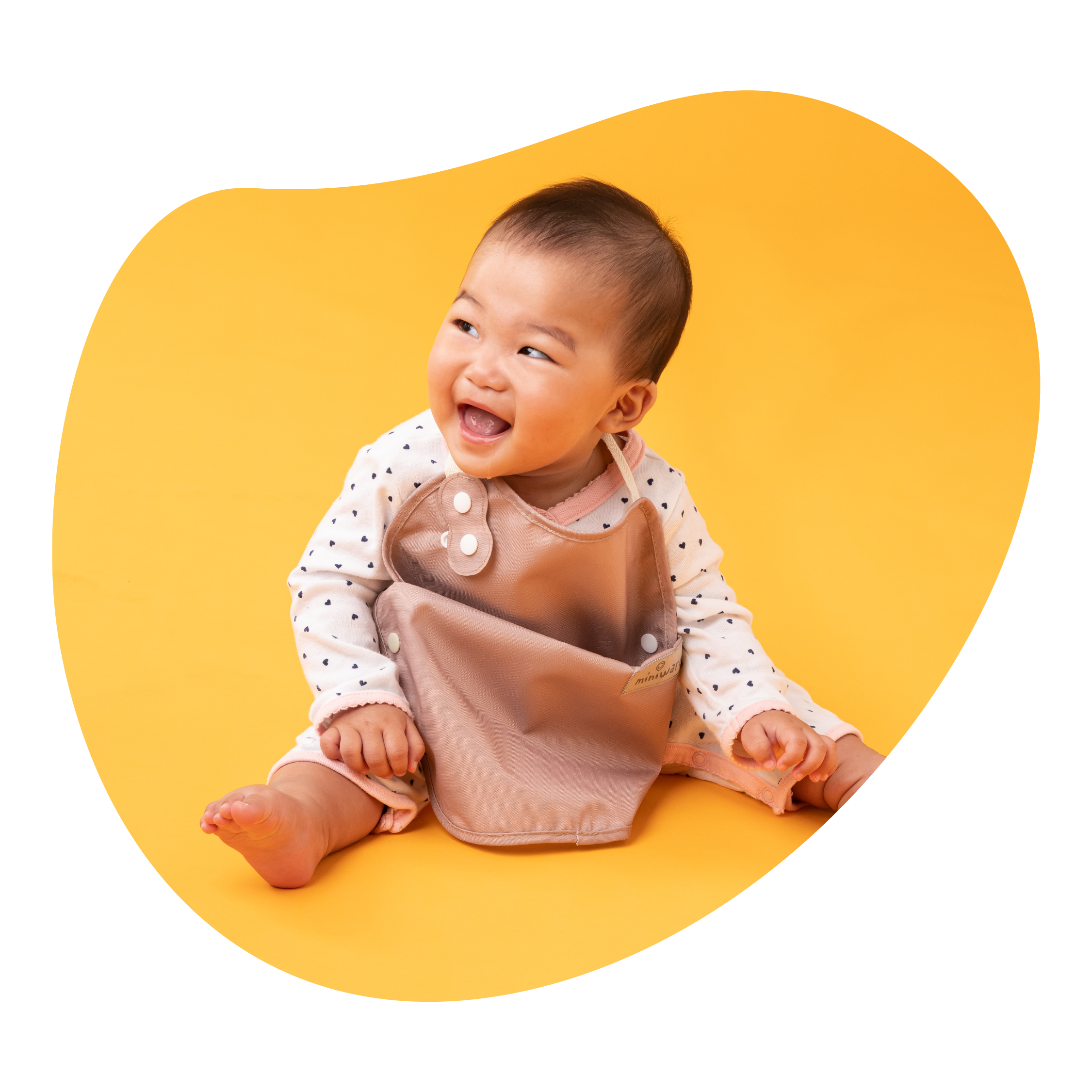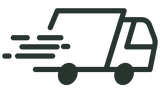 Exclusive Discounts
Redeem for up to 30% Off!
Redeemable Perks
Transform your points into exciting products or special savings.