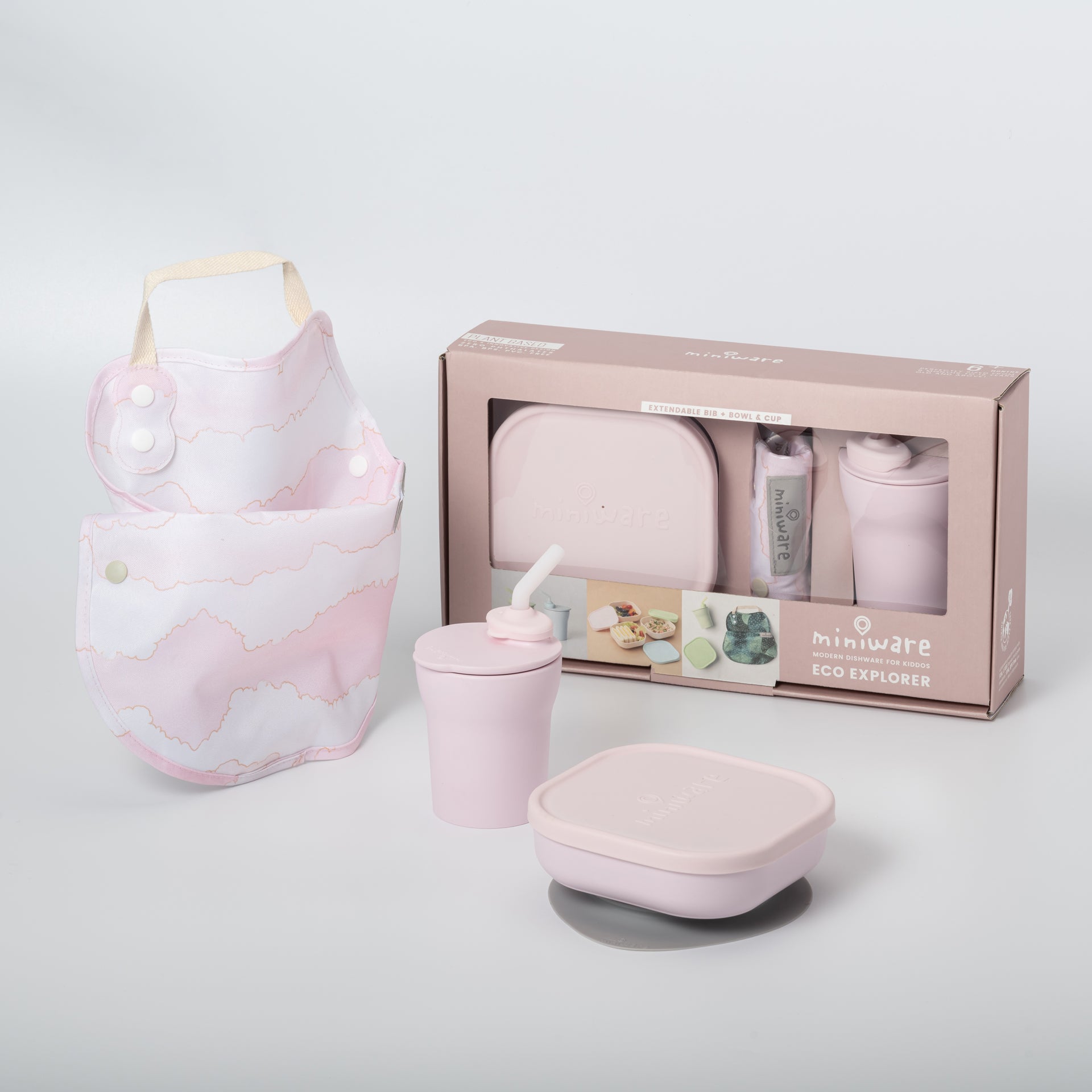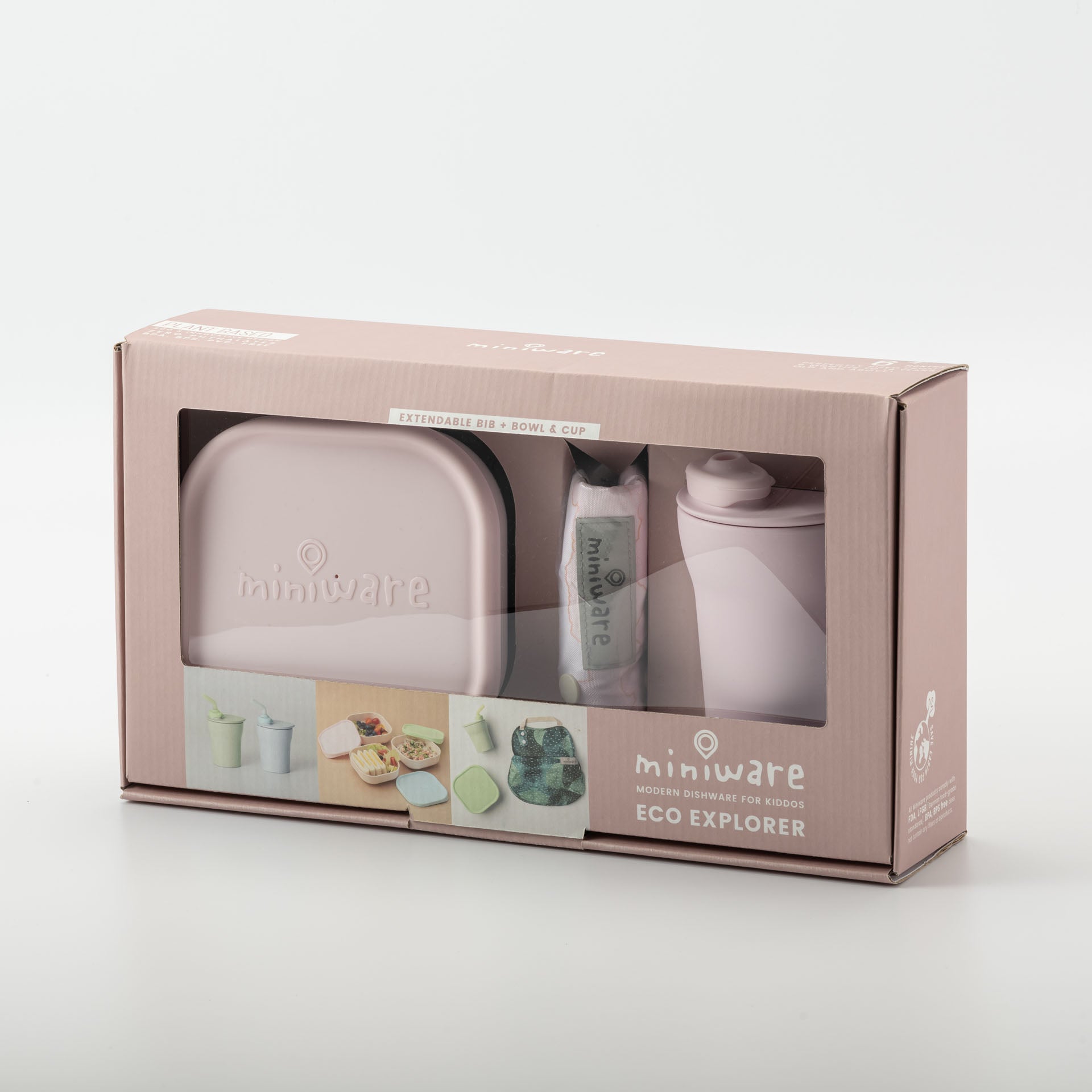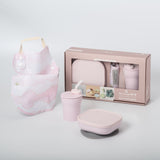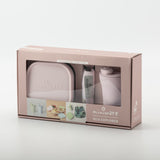 Eco Explorer - Gentle Blossom
Description

The bundle that supports minis growing and learning.

Including a suction bowl with silicone lid, an extendable bib that becomes an apron and a cup that transforms in 3 stages, this bundle supports mess-free learning whether exploring new foods or exciting art projects.

Materials

bowl, cup/ plant based biodegradable and petroleum free PLA

straw and lid cover / food grade silicone

Catch & Cover / 100% Polyester+TPU

Dimensions

bowl / 5.5 x 5.5 x 1.75(H)

cup, lid and straw / diameter 3 x height 5.5

catch & cover / 18 x 11
Usage

1-2-3 Sip!
Begin by attaching the soft silicone straw to the mini cup. Once your child is comfortable with the silicone straw, transition to the Lid + Spout. As your child becomes proficient with the Lid + Spout, they can progress to using a lidless cup independently.

Snack Bowl
First attach the suction foot to prevent spills, then place food or snacks in the bowl.
For best suction wipe bottom of foot clean from dust and debris, and use on a smooth flat surface.
Keep foods fresh for longer and secure with the silicone lid.

Catch & Cover
Use as a bib or expand to apron for arts and crafts or older Minis. Adjust using snap system for perfect fit.
Care

1-2-3 Sip! & Snack Bowl
May be used in dishwasher on top rack, or handwashed with warm soapy water. Wash all components thoroughly after each use and allow the parts to dry completely before reassembling or storing. Use a soft sponge or brush to clean any crevices or hard-to-reach areas. Please sanitize with care. Do NOT boil more than 30 sec, do NOT use silicone in UV-activated sterilizers.

Catch & Cover
Wipe the product clean with a damp cloth to remove food stains, spills, or any other messes.
Set Includes

1x 1-2-3 Sip! Cup set, 1x Snack Bowl, 1x Silicone lid, 1x Catch & Cover
Adapts to Every Adventure
This comprehensive set ensures you and your mini are prepared for various adventures, be it trying new foods or diving into creative projects.
Shaped for little hands, ensuring a comfortable grip for budding eaters.
Crafted from baby-safe, non-toxic materials for peace of mind at mealtime.




Free shipping on orders over $35
Eco Explorer - Gentle Blossom
Brand Certifications
Eco Friendly
Work Environment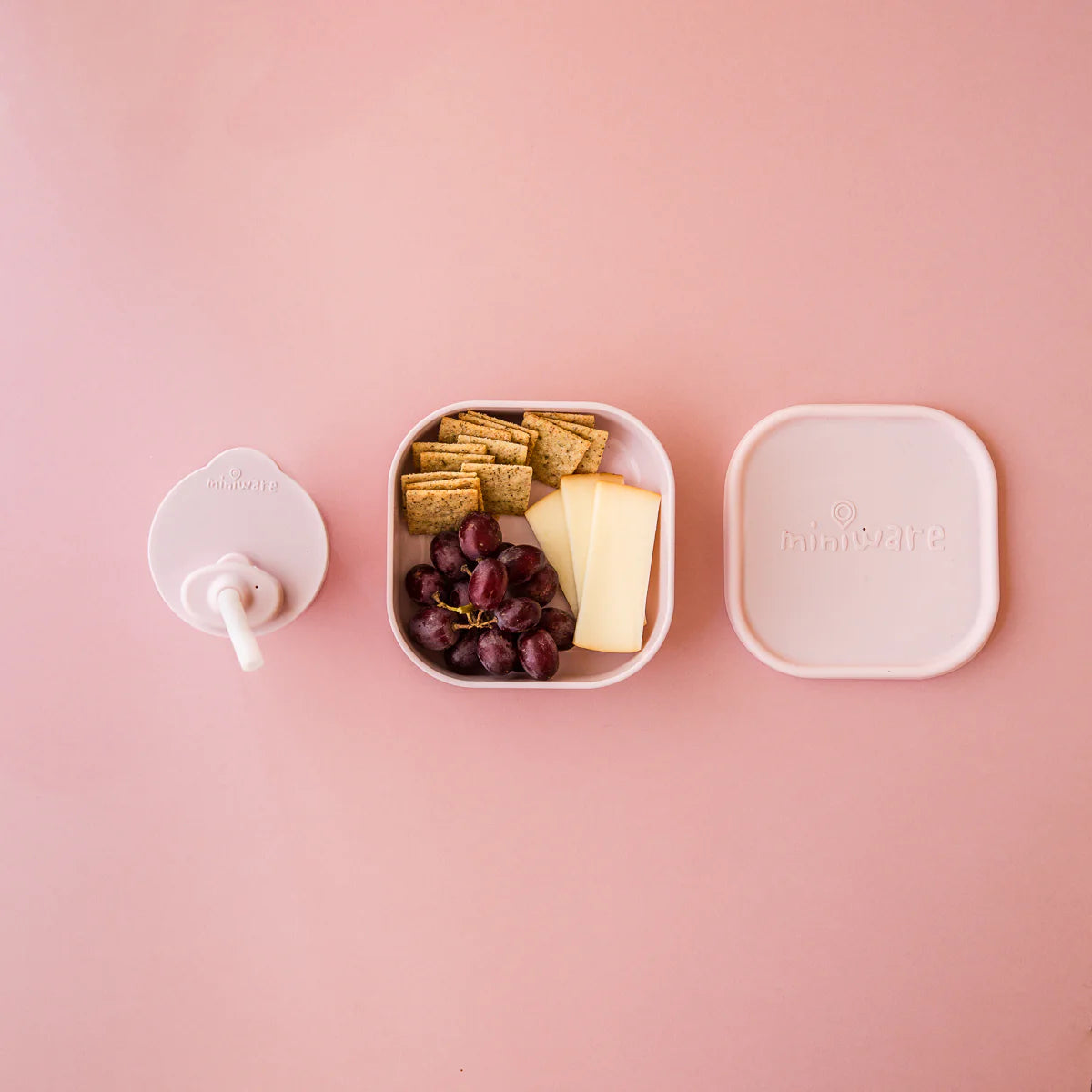 Benefits
· All minis need to explore in one complete set.

· Earth and family safe materials, compostable and food grade.

· Detachable suction foot builds feeding skills and transitions as Minis grow.

· Silicone bowl lid keeps foods fresh, snacks in place and makes stacking easy

· 123 sip! cup develops with child from silicone straw, to non-drip spout, to a real cup.

· Catch & Cover easily transforms from bib to apron and back again.

· Dishwasher safe snack bowl, Catch & Cover is easy to wipe clean.


Made from Plants, For Kiddos and Mother Earth
FAQ

What stages of my child's growth is this bundle suitable for?

The bundle is designed to adapt from the earliest self-feeding stages to later childhood activities, whether feeding or art projects.

What materials are in this bundle?

The bowl and cup are made from biodegradable, petroleum-free PLA. The straw, lid cover, are made from 100% food grade silicone and Catch & Cover is crafted from 100% Polyester+TPU.

Is the snack bowl lid anti-leak?

Yes, it seals to prevent leaks from wet foods. The lid is designed to keep foods fresh at home and minimize snacks spilling, however is not suitable for transporting 100% liquids.
Returns

30 Days

Refunds available for unused products within 30 days; certain exclusions apply.

Replacements

Replacements offered for items with defects on arrival or hidden defects within 90 days; damage from drops/throws excluded.

Shipping Costs

Return shipping costs borne by the customer; we're not liable for lost/stolen items. Refunds processed in 10 days; terms and exceptions apply.
Why Miniware
Sustainable, Safer For Baby, Easy To Clean
Our brand is committed to sustainability, ensuring a brighter future for the next generation. Every product is designed with your baby's safety in mind while offering hassle-free cleaning.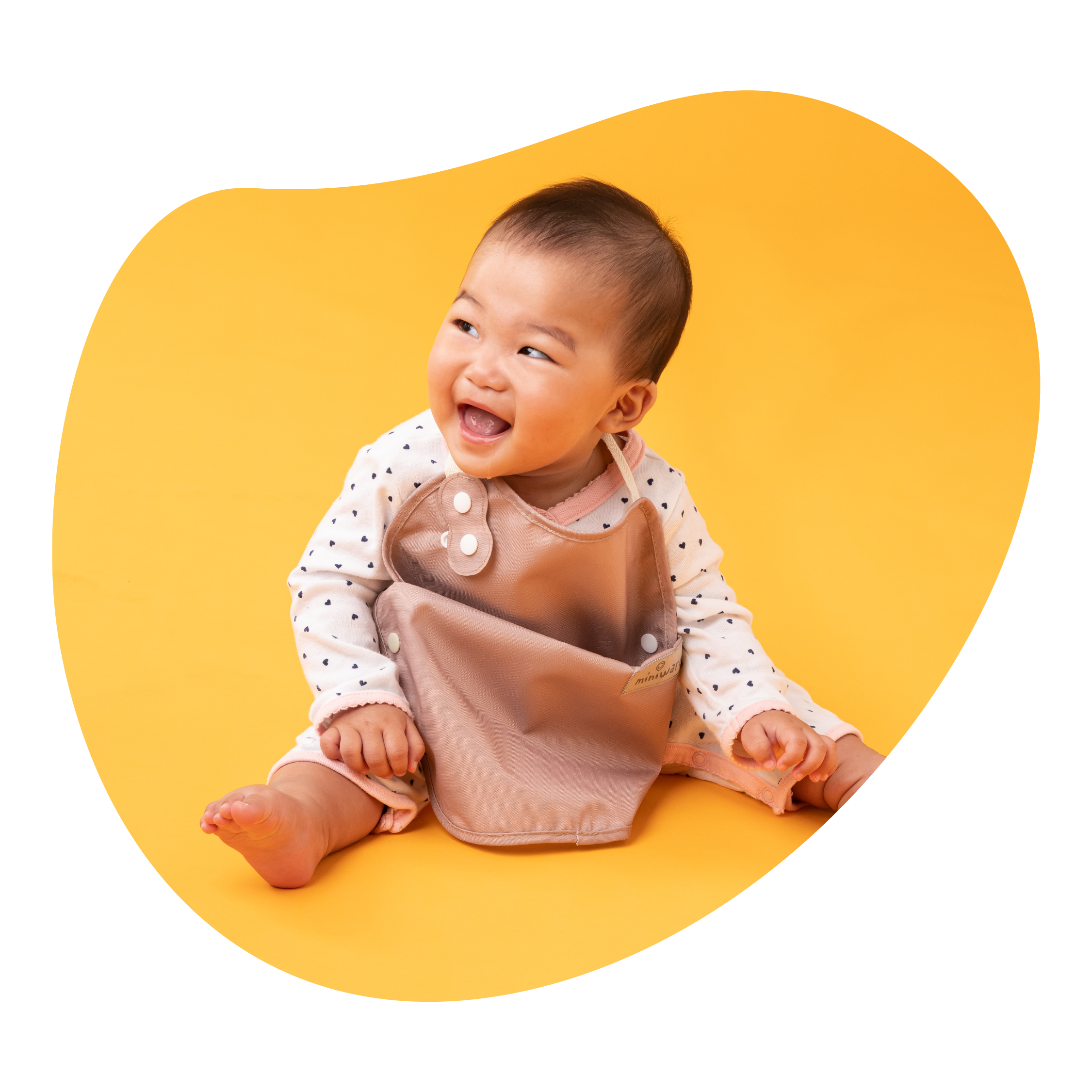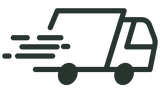 Exclusive Discounts
Redeem for up to 30% Off!
Redeemable Perks
Transform your points into exciting products or special savings.